Divorces arise unexpectedly sometimes leaving us feeling helpless, alone, and frustrated. There are obstacles that may present themselves and things you may not be sure how to handle. If children are involved, it only makes the matter more difficult. So, what can you do? How can you ease this process of separation after being married to someone for several years and sharing the same values and views with them?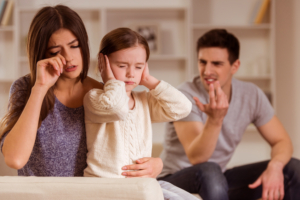 The Law Office of Stuart R. Shafer P.C. is here to tell you that there is help available and professionals who can get you through the divorce process without having to deal with all the added stress you would take on had you not hired an East Lansing divorce attorney.
Whether your divorce was brought on because of infidelity, domestic violence, or you both decided to part your separate ways, our Lansing family law attorneys are qualified to guide you and advise you from the beginning of the divorce process all the way until the end. And if you happen to reside in Charlotte, Grand Ledge, St. Johns, Okemos, or Dewitt, The Law Office of Stuart R. Shafer are also available to provide our legal services to you as well.
What are some of the obstacles I may be presented with?
Some of the common topics that are addressed in a divorce case include:
Child Custody
Parenting Time
Child Support
Alimony / Spousal Support
Property Division
Debt Division
Prenuptial agreements and their effect
It is likely that your divorce has brought about many different types of emotions, some you didn't realize you embodied. The divorce itself can be difficult to accept and these topics that are often touched on make the divorce process lengthier and harder to get through. Who gets to spend more time with children? Who is going to receive the house? How will your assets be split? All of these questions are common and the Lansing divorce lawyers at our firm can address each and every one with you.
You May Benefit from Mediation
According to the American Psychological Association, "research shows that mediation can be beneficial for emotional satisfaction, spousal relationships and children's needs" [Source: American Psychological Association]. If you choose to go through mediation, you may be able to avoid having to go through the usual courtroom proceedings as you and your family law attorney can work with a third-party to get your issues resolved.
If you would like to learn more about mediation or other methods that can be used to help ease your divorce, contact our firm today by calling 517-487-6603.
Stuart Shafer, who is a dedicated and compassionate family law lawyer in Michigan, has helped couples looking to divorce get through the messier tasks that are often harder to agree on such as splitting assets and coming to some sort of agreement on how your time with your children is going to be divided between you and your ex-spouse. With 42 years of experience in the field, family attorney Stuart Shafer is available to support you and protect your rights in the matter.
https://stushafer.com/wp-content/uploads/2020/06/iStock-509557490-1.jpg
836
1255
damg
https://stushafer.com/wp-content/uploads/2020/06/logo_stushafer.png
damg
2017-09-27 00:00:00
2017-09-27 00:00:00
How Can a Divorce Attorney Help Me Overcome the Common Divorce Obstacles?