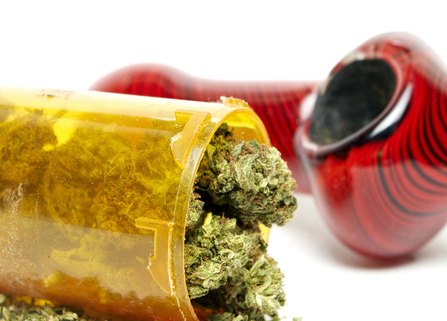 Police officers are trained to catch individuals in the act of committing a crime or detain those who are said to be guilty of breaking the law. While officers help to keep the community safe by reducing the amount of crime that occurs, they sometimes make mistakes in the process of catching criminals which leads to wrongful arrests being made. The Lansing State Journal recently reported that a Michigan couple was wrongfully arrested for possession of medical marijuana back in November 2016 and have now come forward and filed suit against Michigan State Police.
The news source stated that Iesha and Anthony Williams, as well as Del Morgan, were all stopped in Lansing twice on November 30th, 2016 and were subjected to "an unlawful search, false arrest, and unlawful seizure of cash." During the first stop, MSP Trooper James Moots claimed he smelled marijuana coming from out of the vehicle and asked if anyone had a medical marijuana license. If you weren't aware, a person is permitted to possess certain amounts of medical marijuana given they have the authorization to do so, although the state has yet to pass laws that permit individuals to possess marijuana for recreational purposes.
Moots claimed that after he asked that question, he didn't receive a response although the two individuals claimed in the lawsuit that they did, in fact, tell the officer that they had a license when they were initially pulled over. The officer proceeded to pat down Anthony and then arrested him. Iesha was then interviewed by the officer. After being detained and taken to the local jail, it wasn't until about an hour later that Anthony was released. The source claims there was no citation written, however, the officer allegedly confiscated close to $35,000 from Anthony's pockets. The source went on to explain that the officer then contacted Tri-County Metro Narcotics and asked the unit to conduct surveillance on the individuals as he felt there was some discrepancy with the story the two provided in how they acquired such a large sum of money.
After following the three around for three hours, the undercover officers witnessed them visit four medical marijuana dispensaries and three retail stores. It wasn't until they made a lane change without signaling and failed to yield at a yellow light that the undercover officers pulled their vehicle over. Iesha and Anthony confirmed that they had just visited dispensaries and Anthony told officers that he was a caregiver and that he had his identification card in his wallet Despite the statements given, officers arrested all of them and took them in to be interviewed. Officials seized 20.8 ounces of marijuana, their phones, and had their vehicle towed. The source highlighted that the officers seized the items "because of the discrepancies about the money and the purchase of an illegal amount of medical marijuana."
The three were later charged with possession with intent to deliver marijuana. They went on to hire a Michigan criminal defense lawyer, which is something you should always do when you have been charged with any type of crime, who determined that there had been multiple discovery violations in the case. As a result of his findings, the representing defense attorney asked that:
The criminal charges are dropped.
The forfeiture complaint is dismissed.
The vehicle is returned.
The cash is refunded.
Eventually, a resolution was agreed upon regarding the charges, but the two individuals are now seeking $500,000 along with attorney fees in their lawsuit they recently filed for their wrongful arrest among other things.
The truth is, many individuals are faced with similar circumstances, although some are forced to spend months or even years behind bars. The fact is, officers of the law will often violate an individual's rights in order to detain them for a crime they believe they have committed. And when it becomes your word against an officer of the law, you don't stand a good chance at defending yourself unless you have a criminal defense attorney working by your side.
Therefore, if you have been arrested in Lansing, East Lansing, Okemos, Dewitt, St. Johns, Charlotte, or Grand Ledge and believe your rights were violated during an arrest or that you did not commit the crime you are being accused of, contact Lansing, MI criminal defense attorney Stuart R. Shafer. Our office is capable of helping you fight these charges and prove that you are the victim of a wrongful arrest.
You can reach the Law Offices of Stuart R. Shafer, P.C. at:
1223 Turner Street, #333
Lansing, MI 48906
517-487-6603
https://stushafer.com/wp-content/uploads/2020/06/photodune-7582218-marijuana-xs.jpg
447
447
damg
https://stushafer.com/wp-content/uploads/2020/06/logo_stushafer.png
damg
2020-05-22 00:00:00
2020-05-22 00:00:00
Michigan Couple Wrongfully Arrested for Possession of Medical Marijuana