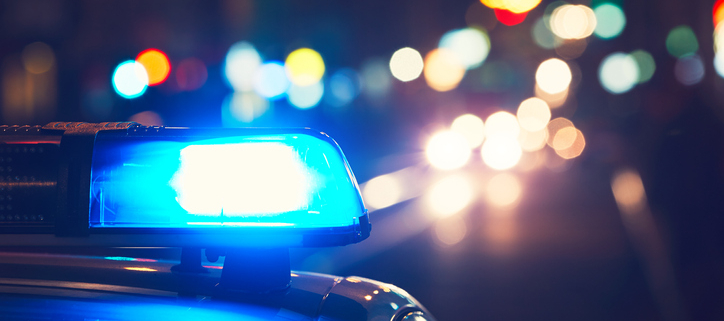 The Clinton County Sheriff's Office is contemplating on charging a woman with attempted murder after police allege she deliberately ran her vehicle into an officer's car [Source: WILX]. The incident occurred back in January during the late morning hours at Old 27 and Jason Road. Police say the 33-year-old woman was driving a minivan at the time and led police on a chase from Laingsburg into Clinton County as she was "trying to escape because of her criminal record."
Officers say the woman then rammed her van into the officer's cruiser which resulted in both drivers having to be hospitalized.  While DeWitt police were initially heading the investigation, the Clinton County Sheriff's Office has announced they were taking over. Clinton County Sheriff Larry Jerue had this to say regarding the incident, "We have evidence to believe that this was a deliberate act on the perpetrator's part to run head-on into that vehicle and this afternoon (Thursday) we are submitting a report to the prosecuting attorney's office along with requests for multiple charges including that of attempted murder."
Officials also said they are requesting that the woman be charged with attempted murder as they claim she admitted to trying to kill herself by crashing into the officer's vehicle.
Top Reasons Why You Should Hire a Clinton County, MI Criminal Lawyer After Being Charged with a Crime
After you have been accused of committing a crime in Clinton County, it is up to you to prove you are innocent. Unfortunately, when you have police officers making allegations against you, it becomes your word against theirs. But what if an officer has provided a false statement that was used to incriminate you? What if you were accused of committing a crime you didn't actually commit?
This is why you need to hire a Clinton County, MI criminal defense attorney.
Proving you are innocent or that you did not commit the crime you have been accused of can be difficult, especially if the prosecutor has managed to gather up enough evidence intended to be used against you. That is why you need someone with a significant amount of legal experience that is going to know how to dispute the allegations and even discredit them. This is something Clinton County, MI criminal attorney Stuart R. Shafer is capable of doing.
Some of the other reasons why it is essential for you to retain a qualified criminal lawyer in Clinton County, MI include:
They can prepare you for court hearings, including what you should and should not say.
Help you understand any plea bargains that are offered and assist you with making the right choice in how to proceed with your case.
Protect your freedom and your rights.
If you haven't hired a criminal law firm in Ingham County, MI to handle your case, contact the Law Offices of Stuart R. Shafer, P.C. today.
You can reach the Law Offices of Stuart R. Shafer, P.C. at:
1223 Turner Street, #333
Lansing, MI 48906
Phone: 517-487-6603
Website: www.stushafer.com
https://stushafer.com/wp-content/uploads/2020/06/iStock-693363086.jpg
483
724
damg
https://stushafer.com/wp-content/uploads/2020/06/logo_stushafer.png
damg
2020-03-30 00:00:00
2020-03-30 00:00:00
Clinton County, MI Woman Likely to Face Attempted Murder Charges for Crashing into Police Cruiser