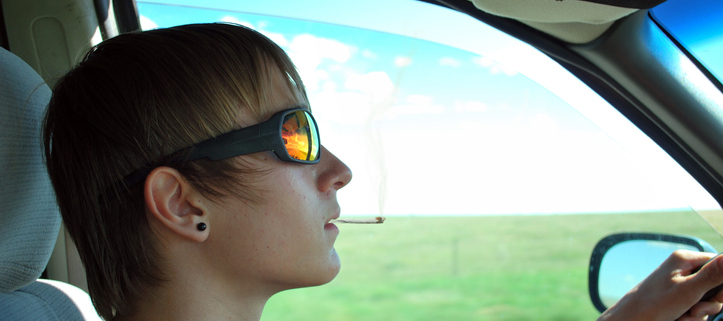 Based on information shared by Property Casualty 360 and the University of Michigan, it may be true.
After a report was created by researchers at the University of Michigan Addiction Center and published in the journal, Drug & Alcohol Dependence, it was revealed that "more than half of people who take medical cannabis for chronic pain say they've driven under the influence of cannabis within two hours of using it, at least once in the last six months." In fact, "one in five of them said they'd driven while 'very high' in the past six months." The results of the survey, which included 790 Michigan medical cannabis users, was "troubling" to Erin E. Bonar, Ph.D., who is the lead author and assistant professor of psychiatry and a practicing clinical psychologist at the U-M Addiction Treatment Services.
As of May 2018, there were approximately 270,000 residents living in the state of Michigan using medical marijuana for chronic pain, however, now that it has been legalized for recreational purposes, perhaps there will be more users attempting to drive regardless of the risks it poses. But it has been determined that driving while under the influence of marijuana is risky and dangerous as it cuts reaction time which places the driver and those around them at a greater risk of engaging in a car accident.
Therefore, if you are someone who is currently taking medical marijuana or are a recreational user, below are some additional reasons why you should avoid getting behind the wheel of your vehicle after having used marijuana.
Whether you are using marijuana because your physician has prescribed it to you or because Michigan's new law now permits residents to use it for their own personal pleasure, never should you consider driving your vehicle after doing so. It is still against the law to operate your motor vehicle while under the influence of drugs or alcohol and the crime still carries some rather hefty punishments. To touch more on the risk of driving while under the influence of marijuana, below are a few other reasons why you and your loved ones should steer clear from operating a vehicle after having used marijuana.
The Colorado Department of Transportation highlighted that "studies have shown marijuana impairs critical abilities needed to drive safely." Some of these include:
Difficulty "in road tracking and lane-position variability.

Decreased divided attention.

Impaired cognitive performance.

The ability to plan your route, make smart decisions, and determine which actions are riskier than others.
Did you or someone you know make the mistake of driving while high in Lansing, MI?
Were you or a member of your family arrested and charged with driving under the influence of marijuana and/or alcohol? If so, you probably have many questions and concerns that need to be addressed but aren't sure who to turn to. At the Law Offices of Stuart R. Shafer, P.C., we will not only take the time to explain your charges, but help you understand your rights and what steps can be taken to help fight your charge and protect your freedom. While it can be difficult to get a DUI charge reduced or thrown out, you stand a much greater chance at accomplishing this when you are represented by one of the best DUI lawyers in Lansing, MI.
Whether your charge was filed in Lansing, East Lansing, Dewitt, Okemos, Grand Ledge, St. Johns, or Charlotte, our firm is available to provide you with the legal assistance you will need so that you are not only prepared for your case but can feel confident in knowing your rights are protected. Therefore, give us a call today so we can schedule a time for an initial consultation to discuss your matter in depth and review the various ways we can help you through this tough and confusing time.

You can reach the Law Offices of Stuart R. Shafer, P.C. at:
1223 Turner Street, #333
Lansing, MI 48906
517-487-6603
Website: www.stushafer.com
https://stushafer.com/wp-content/uploads/2020/06/iStock-621472744.jpg
484
723
damg
https://stushafer.com/wp-content/uploads/2020/06/logo_stushafer.png
damg
2019-01-31 00:00:00
2019-01-31 00:00:00
Are a Majority of Medical Marijuana Users Guilty of Operating Their Vehicle While Under the Influence?