8 Things You Didn't Know About Prenuptial Agreements in Ingham County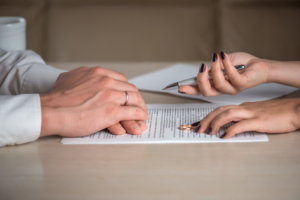 While most assume that prenuptial agreements are reserved for celebrities, singers, and people of wealth who are looking to protect their assets before entering into a marriage, these legal documents are actually beneficial for anyone of any class to utilize. To help you understand exactly what a prenuptial agreement is and if you might need one, below we are highlighting for you eight important things you should know to know them [Source: Forbes].
What is a prenup anyway?
A prenuptial agreement "is a private agreement between a couple signed before they get married which sets forth the division of their assets in the event of divorce or death." It is important to understand that each state does have its own laws governing prenuptial agreements and couples will often "seek out the laws of the state that will be most beneficial in carrying out the terms of the prenup."
Prenups have standards that must be followed.
According to Forbes, the terms set forth in a prenup must be "fair" and "the parties have to fully disclose their assets." Neither party should attempt to hide certain assets or provide false information as this could come back to harm them should the marriage not work out. Aside from disclosing all assets, both parties may also need to include expected inheritances.
Circumstances dictate fairness.
Although the idea of a prenup is to protect an individual's assets, certain circumstances would need to be taken into account given the marriage fails. For instance, take Justin Bieber and Hailey Baldwin's marriage as an example. Forbes highlights that while Bieber's estimated net worth is approximately $265 million, Baldwin's is only $ 2 million. Now, let's say the two remained married for several years and had children together. Would it be fair if both still walked away from the marriage with their net worth still intact? Not exactly. You see, Baldwin could potentially collect alimony and even child support depending on how these issues are addressed in court despite the varying net worth's they entered into the marriage with.
You should retain your own Ingham County, MI prenuptial agreement lawyer.
Prenuptial agreements must be formatted in a way so that they are fair and in compliance with state laws. To ensure your document is, it is recommended that you retain a prenuptial agreement attorney in Ingham County, Michigan so that your prenup holds up in court in the event of divorce.
It's always a good idea to plan ahead when it comes to a prenup.
Bringing up prenuptial agreements before a marriage can be stressful and overwhelming, but just because the discussion might be a hard one to tackle doesn't mean it should be put off. Waiting until a few days or weeks before your marriage to bring up a prenup isn't recommended as these documents take time to draw up and might need a few revisions. And the last thing you want is to have to rush and risk making a mistake which could result in your prenup losing credibility later on down the road should you need to enforce it.
Children shouldn't be included in the prenup. 
"A prenuptial agreement cannot provide for or limit child support or rights related to children. Courts and legislatures do not let couples bargain away the rights of their children."
Prenups can address alimony. 
Although it might not be ideal for one party to waive their right to alimony in the event of a divorce, this is something that can be included in a prenuptial agreement. While one or both parties can agree to not pursue the other for alimony and include this in their prenup, this is not a requirement and such terms do not need to be addressed in the document.
Marital property typically isn't included in a prenup.
Prenups are geared toward protecting certain assets you enter into the marriage with, not those you and your spouse purchase while married. Generally, anything a couple buys or invests in during the course of their marriage is considered marital property and is subject to division in the event of divorce.
Are you and your soon-to-be spouse considering getting a prenup?
If you are considering getting a prenup drawn up in Ingham County, MI or have questions regarding the legal document you can always reach out to a prenuptial agreement law firm in Ingham County, MI for help. The Law Offices of Stuart R. Shafer, P.C. is highly experienced with handling all types of family law matters, including prenups, and would be happy to answer any questions you have or begin drawing up your document.
You can reach the Law Offices of Stuart R. Shafer, P.C. at:
1223 Turner Street, #333
Lansing, MI 48906
Phone: 517-487-6603
Website: www.stushafer.com